2015
Chester Park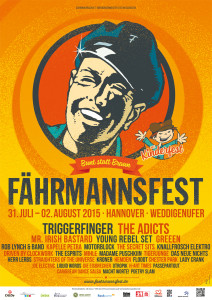 Driven By Clockwork
Flooot
Greeen
Joe Electric
Kapelle Petra
Knallfrosch Elektro
Kroner
Lady Crank
Motorblock
Mr. Irish Bastard
Rob Lynch & Band
Straighters Of The Universe
The Adicts
The Esprits
The Petebox
Triggerfinger
Young Rebel Set


2014
Andy Frasco & His U.N.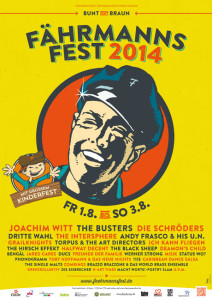 Bengäl
Deamon's Child
Die Schröders
Dritte Wahl
Ducs
Freunde Der Familie
Grailknights
Halfway Decent
Ich Kann Fliegen
Jared Cares
Joachim Witt
The Black Sheep
The Busters
The Hirsch Effekt
The Intersphere
Torpus & The Art Directors
Werner Strong


2013
Beatpoeten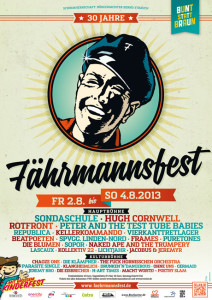 Die Blumen
Frames
Hugh Cornwell
Jacobus & Jeremyr
Kellerkommando
Kollektiv 22
Lascaux
Lichtjahr
Naked Ape And The Trumpery
Peter And The Test Tube Babies
Puretones
Republica
Rotfront
Sondaschule
Sopor
Spvgg. Linden-Nord
Vierkanttretlager


2012
Candy Trip Down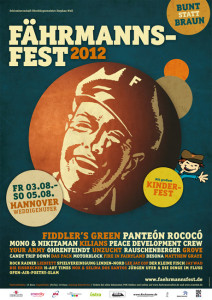 Das Pack
Desona
Fiddler's Green
Fire In Fairyland
Grove
Kilians
Magic Hawai
Matthew Graye
Mono & Nikitaman
Monsters Of Liedermaching
Motorblock
Ohrenfeindt
Panteón Rococó
Peace Development Crew
Prosto Z Chile
Rauschenberger
Unzucht
Your Army


2011
16 Hertz

Big Tune
Black As Chalk
Couchdivers
Cryptex
DAF
Gordon Melon
Kneeless Moose
Midas Inc.
Mind Portrait
Ohrbooten
Reebosound
The High Speed Karmageddon
The Love Bülow
Tito & Tarantula
Turbostaat
Werner Nadolnys Jane


2010
Athorn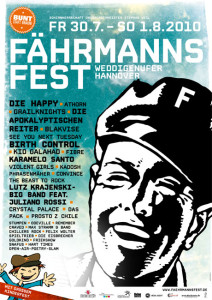 Birth Control
Blakvise
Convince The Beast To Rock
Crystal Palace
Das Pack
Die Apokalyptischen Reiter
Die Happy
Fibre
Grailknights
Kadosh
Karamelo Santo
Kid Galahad
Lutz Krajenski Big Band feat. Juliano Rossi
Phrasenmäher
Prosto z Chile
See You Next Tuesday
Violent Girls


2009
Blank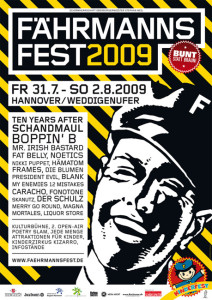 Boppin' B
Caracho
Cosmic Tribe
Die Blumen
Der Schulz
Fat Belly
Fonotone
Frames
Hämatom
Liquor Store
Magna Mortalis
Merry Go Round
Mr. Irish Bastard
My Enemies 12 Mistakes
Nikki Puppet
Noetics
Schandmaul
Skanutz
Ten Years After


2008
5 Bugs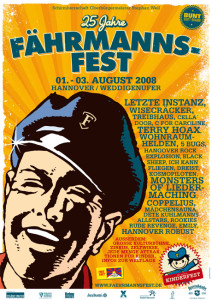 Black Sheep
Cella' Door
C For Caroline
Coppelius
Dete Kuhlmanns Allstars
Dreist
Emily
Hangover Rock Explosion
Hannover Robust
Ich Kann Fliegen
Kosmopiloten
Letzte Instanz
Mädchensauna
Monsters Of Liedermaching
Rookies Rude Revenge
Terry Hoax
Treibhaus
Wisecräker
Wohnraumhelden


2007
Afrokalypse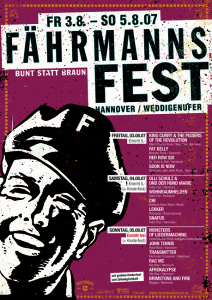 Brimstone And Fire
Fat Belly
John Tennis
King Curry And The Pissers Of The Revolution
Lekker
Monsters Of Liedermaching
Olli Schulz & Der Hund Marie
Red Row Six
RAC MC
Samavayo
Snafus
Soon is Now
Transmitter
Wohnraumhelden


2006
Ballet Zebola & Sowieso Loningisa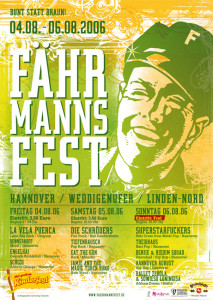 Benjie & Riddim Squad
Die Schröders
Donnerkopf
Eat The Gun
Engelhai
Hannover Robust
Jamie and the Magic Torch Song
La Vela Puerca
Rotz auf der Wiese
Schizo
Superstarfuckers
Treibhaus


2005
Boozed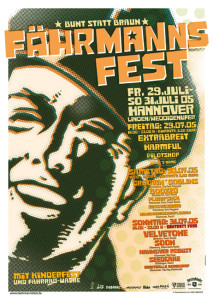 Eightballz Bombshop
Extrabreit
Groovedigger
Groovin Gobblins
Hangover Rock Explosion
Hannover Robust
Harmful
Pilotshop
Plumpsack
Seedcake
Soon
Stupify
Velvetone


2004
Aeroclub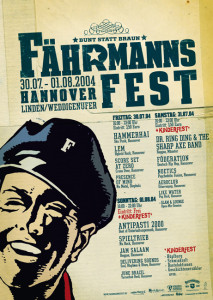 Antipasti 2000
Delivering Sound
Die Föderation
Dr. Rind Ding
Hammerhai
Jam Salaam
June Brazil
Lem
Like Water
Noetics
Presence Of Mind
Score Set At Sero
Spieltrieb


2003
Change Partners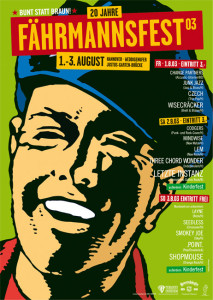 Codgers
Czech
Junk Jazz
Layne
Lem
Letzte Instanz
Mindwise
Point
Seedless
Shopmouse
Smokey Joe
Three Chord Wonder
Wisecräcker


2002
Ancient Existance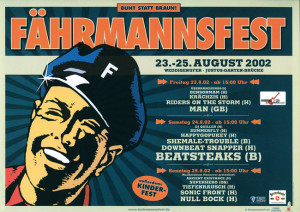 Beatsteaks
Bensonman
Downbeat Snappers
Happygopukey
Krächzis
Man
Null Bock
Riders on the Storm
Shemale Trouble
Sonic Front
Summerfly
Superhero
Tiefenrausch


2001
Die Föderation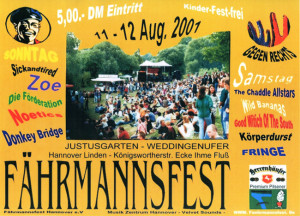 Donkey Bridge
Fringe
Good Witch Of The South
Körperdurst
Noetics
Sick And Tired
The Chaddle Allstars
Wild Bananas
Zoe


2000
Alexxis Machine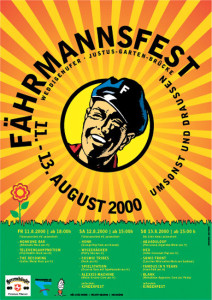 Aquadulop
Becoming Honk
Blank
Cosmic Tribe
Famous In 9 Years
Hex
Honkong Bar
Spielstation
Sonic Front
Televengahypnotism
Wisecräcker


2000 Eine Welt Festival
Anancy K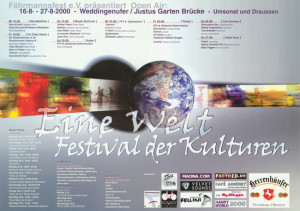 Black Milk
Czech
Da Kackshowman & Da Producerman
Elektick & Track
Gentlemen in Pleasures Garden
Guacamole Aqui
Hakan Türkozü Trio
Jane Doe
King Curry And The Pissers Of The Revolution
Like Waters
Lonesome Boatmen
Miss Trigger
Noetics
Percussions Inc.
Sera Kunda
Silent Ideas
Südstadt Label
These Wishes
Tick Breeder
Torison
Weeth Experience
Wow & Flatters
Yellow Press
Y-Orbit


1999
Black Milk

Czech
Eaten By Sheiks
Electric Lizard
I.M.P.
Melones
Narbengesicht
Nola
No Sex Until Marriage
Televengahypnotism
Wisecräcker


1998
Boogey Man
Daddy Long Legs
Doc Vox
Erekshun
Jamboree
Paradogs
The Papstars
The Viscounts
Wilde Reiter Band


1997
Bottom 12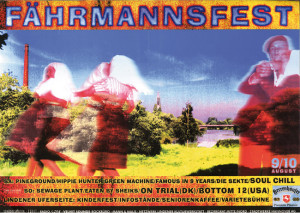 Die Sekte
Eaten By Sheiks
Famous In 9 Years
Hippie Hunter
Green Machine
On Trail
Pineground
Sewage Plant
Soul Chill


1996
Bipers
Boogey Man
Con Fuzion
Conquering Sound System
Guano Apes
Joe Bloek & Band
Jon Bon Deppe
Kamerun News
King Curry And The Pissers Of The Revolution
Krone der Gastlichkeit
Out' A National
Primaries
Terrible Wendybirds
Uhura Sucks
Tomahawk


1995
Beek-A-Boo
Kamerun News
Knochenhauer
Pressure Flip
Primaries
Themes of Things
Total Chaos
Watercolors


1994
Backschisch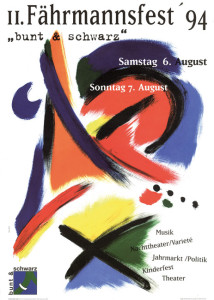 Boskops
Chabab
Commando Achmed
Feierabend
Joshua
Jump in the Queue
Kaadu
Kamerun News
Karaki
Krone der Gastlichkeit
Locarno 1925
Mom
Nimm Drei
Out of Din
Panama Red
Peru Inkas
The Vision
Tillman Deneke Quartet


1993
Big Mama and the Kids
Cuento
Funkanatic
His Masters Voice
Sargant Fury
Suckspeed
The Babbits
The Colour Red
The Jinxs


1992
Darwins
Die Härte
Grabsoul
Kamerun News
King Currywurst
Los Tumbolos
Storemage
Y-Front


1991
Barefoot Girl
Die Schröders
Fury in the Slaughterhouse
Gay City Rollers
Terry Hoax
The Vision
The Young Bucks
Three Cord Wonder


1990
African Tam Tam
Ketchup Boys
Time out Bluesband
Venus Dolls


1989
Abstürzende Brieftauben
African Tam Tam
Emigrants
Fury In The Slaughterhouse
Terry Hoax


1988
African Tam Tam
Boogie Brothers
De Bakel Band
Kleenexs Bluesband
Me & Zze Boys
Mit 18
One Nite Stand
Rynchom "P"
Solution
Tennessee Rain


1986
Band of Thieves
Charly Maucher Band
Emmigrant Blues Band
Fritz Hamburg
Hajo Hoffmann Trio
Heartbreakers
Session der Jazzmusiker-Initiative
Uwe Bruchhäuser


1985
Chi. Trunc.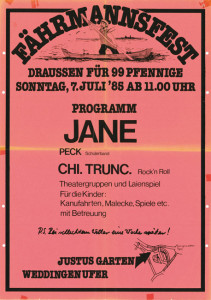 Emigrants Bluesband
Emil und die Detektive
Hasso Anhoeks Supersession
Jane
Moulin Rouge
Peck
Uwe Bruchhäuser & Falk
Wham Low


1984
Cathouse Band
Dixilanders of Joy
Emil & Die Detektive
Extra Stout
Ezy Pogo
Lady Jane
Me & Zze Boy
Monsieur Martin
Moulin Rouge
Nimm Drei
Overlands Skiffle Express
Peg
Rizzo
The Sixties
The Undermen


1983
Dixilanders of Joy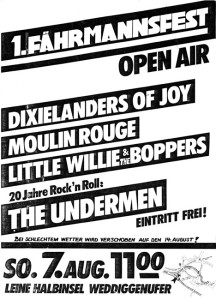 Little Willie & The Boppers
Moulin Rouge
The Undermen